Our Location
Kingsridge Park is located on Dunbar Rd between Exit 149 on I-75, and Hwy 41 in Byron, GA. It is 15 minutes from the cities of Macon and Perry, as well as 20 minutes from Robins Air Force Base. For more information please contact us at the numbers listed below. You can also click the Google map above and get easy directions right to our gate!
1432 Dunbar Rd
Byron, Ga. 31008
Office: (478) 956-4966
Fax: (478) 956-4866
kingsridgepark@gmail.com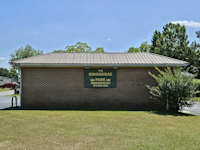 Home For Sale
This is a 28x44 3 bed 2 bath Fleetwood manufactured home. It has 2 covered decks and a ramp on the front deck. The home also includes a new roof and A/C, as well as a storage building. Priced at $30,000, which includes all taxes. Please call the Kingsridge Park office @ (478) 808-7232 for more information or to see the home.